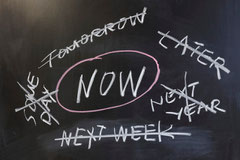 Deal with your tasks

Ok, here goes the bad news first: You have to work on your tasks otherwise they won't get done. That means you have to overcome you weak inner self instead of looking for ways to procrastinate your tasks.

If you are tempted anyhow to abandon your tasks try to focus on these four questions to get back on track:

- Does it have to be now?
- Does it have to be like that?
- Does it have to be me?
- Is it necessary at all?
Additionally these four approaches should help you:
1.Try to divide your tasks in little steps but begin directly with the first one.

2. As soon as you have finished with an unpleasant tasks, treat yourself to tasks that are easier on you. After that you are prepared to tackle something unpleasant again.

3. Try to concentrate for at least 30 minutes on your tasks and don't let yourself be distracted during that time. After that take a break and enjoy. A stop watch or something of that sort is usually helpful to stick to the 30 minute rule.

4. When you completely run out of ideas, it can be helpful to take a step outside and catch some fresh air or to get some feedback from your colleagues. After that you'll get back to your tasks with new motivation.

Finally I do have one treat for you: The more often you take on overcoming your weak inner self, the better and experienced you get. Let's go!

Picture source: http://www.3pointwisdom.com/wp-content/uploads/2014/09/Procrastination.jpg